Doin' the Jungle Boogie...the Costa Rica '06 Trip Report...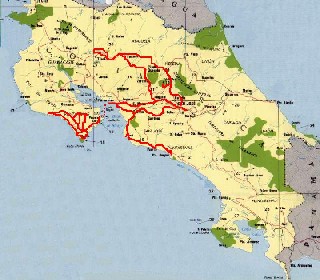 ---


2/4/06 (Nederland -> San Jose)

Denver - Phoenix = 2 hours
Phoenix - San Jose = 4 1/2 hours

Wake up at 7am to shower, take care of last minute things around the
house and then leave by 8am.  Meet up with Todd and Hubert at 8:30am 
in Boulder and then we take the Expressway around to DIA where we leave 
the truck-a-saurus in the Pikes Peak long term parking.  When Hubert 
goes to check in at the America West automated kiosk, it lists his name 
as "Huberta".  A nickname is immediately coined.  The flight to Phoenix
is uneventful although an elderly gentleman ends up seated between Todd 
and I so he gets to hear a lot of joking around on the flight.  I read 
my Fodors Costa Rica book while Todd reads his Lonely Planet.  We have
a 2 1/2 hour layover so we spend little time walking around the Phoenix 
airport to stretch our legs, then settle into a Mexican place for lunch.
I request the nickname "El Jefe", but Hubert and Todd aren't particularly 
accommodating in this regard.  We spend lunch brushing up on important 
Spanish phrases like how to pick up women and slang terms for drugs.  
At the boarding gate, Hubert and I try to get Todd kicked off the plane 
but the women at the counter weren't going for it.  I guess we are
stuck with him for the trip after all.  Todd spends the time trying to
explain his newly founded Rubik's Cube meditation practice.  We board
30 minutes late, and then spent another 20 minutes while the crew remove 
the luggage of some passengers that don't board the flight.  We are 
nearly an hour late at take-off.  Todd is supposed to be seated between 
Hubert and I but tries to nab my aisle seat...  I sic the steward on him.  
Todd moves to an empty seat across the aisle and sits next to Sarah 
who was an American student living in Jaco, Costa Rica.  The flight is
uneventful and the pilot makes up some time, getting us into San Jose at
10:45pm, only 30 minutes late.  We make it through immigration and
customs without any problems and are met just outside the gate by
Flash who had flow in about 1 1/2 hours earlier.  Tony flew in around
noon and we will meet up with him at the airport.  We split a van to
the Bougainvillea Hotel, which costs $22, and then split up the rooms 
with Flash and I taking a room and then Tony, Todd and Hubert taking 
the second room.  After reorganizing my gear, I am in bed around midnight.

Total distance traveled: 3041 miles
Total time:  17 hours

-----------

2/5/06 (San Jose -> Montezuma)

We are up at 6am so we can get an early start for the second longest
day of riding.  We grab breakfast at the hotel's restaurant (I get a
cheese omelet).  Todd takes the first spill of the trip by falling over
a wire in the garden while walking to breakfast.  The rest of us safely
navigate the hotel and are ready to catch the 8am shuttle.  This shuttle
is free and drops us off at the Villa Tournon hotel in downtown San
Jose.  From there, it is a $20 van ride to pick up the bikes at
Wilhelm's in Curridabat.  Five '06 KTM 640 LC4s are waiting for us,
two of them brand new with 0 kms on the odo.  We load up the bikes,
Todd and Hubert take the bikes with saddle bags, the rest of us just
use the tank bags and tail trunks.  Next we handle the paperwork and
get directions and ferry times.  Then we are on the road by 10am.  We
make it a whole 6km before Tony's bike starts overheating.  We pull
onto a side street and call Wilhelm.  It takes over 1/2 an hour for
Wilhelm to find us in the chaos that is San Jose but we immediately 
discover that the afflicted bike has no coolant.  Wilhelm has a bottle 
of coolant so that, along with some water, cures the problem.  We get 
back on the road and hit the Pan-American Highway out of San Jose.  
Traffic on Election Day is crazy but at least the toll booths are 
closed.  The city is basically a bunch of traffic, a bunch of trash
and a bunch of buildings.  Just before the town of Naranjo
we have some excitement when we come across a car broken down in the only
lane.  We all split around it in a mad dash to avoid an accident.
Shortly thereafter, Tony starts having clutch problems with his bike.
We pull into the parking lot of a lunch restaurant (a Soda).  We take
a stab at fixing it, and then call Wilhelm for help.  While we
wait, we order up lunch (cheese sandwich, fries and a Coke).  Just
as we are finishing up, Wilhelm arrives on his 950 Adventure.  He takes
the ailing LC4 back to San Jose and leaves Tony with the 950.  Wilhelm
looks particularly worried as Tony rides off on his personal bike.
Back on the road, we continue west.  One thing that strikes me is an
incredible enthusiasm for the election that we see everywhere.  Kids 
are lined up along the roadside waving flags representing the parties, 
free buses carry people to the polls and cars are honking their horns 
in celebration.  We are stopped a couple of times due to the crowds 
around the roadside polling stations.  Eventually, we make it into the 
port city of Puntarenas.  We arrive at 2:15 for the 2:30 ferry.  A local 
says he'll get our tickets and get us on the ferry first but he
requires a tip.  Hubert and I decide to handle it instead.  Besides, 
we know bikes are loaded first anyway.  When we find the ticket
booth, Hubert picks the wrong line which would get us to Playa Naranjo
instead of Paquera.  I sort this out and we get in the correct ferry 
line.  El Jefe to the rescue!  The tickets are 2100 colones each, 700 
for each person and 1400 for each bike.  We watch the insanity as the 
incoming ferry unloads, then ride the bikes onboard.  We pull our 
important gear off and head upstairs.  No chairs are available in the 
shade so we set up shop on the deck benches.   We strip off our gear, 
buy cold water and enjoy the view for the 1 1/2 hour long ferry ride.  
We cool off with the breeze and just enjoy being out on the water.  
Flash and I have a lengthy discussion about the book "The Earth is Flat".
It turns out we are unprepared for the unloading process in Paquera and 
end up being the last ones off the ferry; we take a moment on the side 
of the road to get the bikes organized, and then head up the steep hill 
out of town.  It is an easy one hour ride over badly pot holed pavement 
to the town of Cobano.  We continue to see election stops everywhere along 
the route.  From there it is a 20km ride on a rough dirt road to the 
beachside town of Montezuma.  Montezuma is a hippie surfer town with 
lots of ATVs and lots of white people.  We check into the El Jardin cabins 
and are given the cabin at the very top of the hill.  It offers great 
views but involves a long, steep hike.  We turn down the security guard's 
offer to watch our bikes for 2000 colones per bike per night.  He has
no interest in a counter offer and we have no interesting paying his
outrageous rates.  As we walk up to the cabin, some howler monkeys start
barking at us.  The view is terrific and the mainly open-air cabin is
great.  The heat and humidity take some getting used to.  We change into
shorts and walk into town.  Because of the election, no beer or spirits
are for sale but a guy on the street is illegally offering beer from a
cooler for 1000 colones each.  We get dinner at Cocolores where I have
an excellent veggie coconut curry.  The restaurant also sells wine, since
apparently wine doesn't fall into their "can't sell alcohol during the
election weekend" policy.  We get one bottle of red and one of white for
the table.  Great food, good wine and entertaining conversation...  On
the walk back, Flash and Tony each buy a beer and neither get arrested.
We head back up to the cabin where I share a room with Tony.  Flash
sleeps on a mattress in the kitchen and Todd and Hubert share a bed
upstairs.  Flash and I sit up until late swapping stories, and then
head to bed around midnight.  Flash, Tony and I all spend time snoring
during the night.

Total for the day: 180 km in 7 hours.

-----------

2/6/06 (Montezuma -> Montezuma)

We crawl out of bed at 8am so we can get in a full day of riding.  We
thought heard howler monkeys during most of the night but decide it must
have just been Todd and Hubert upstairs.  We have a quick breakfast of
coffee (not me, I skip the Joe), bananas and cookies...all free from
the hotel.  While eating, the ungrateful bastards depose me as El Jefe 
and award it to Hubert for the day.  We are on the bikes by 8:30am.  
We don't even make it 1 km before we have to stop to collect the Touratech
windscreen spoiler that vibrates off of Wilhelm's LC8.  Jeez, we haven't 
even gotten out of Montezuma and already Todd is trying to break the 
fancy loaner bike!  We bounce back up the dirt road to Cobano, fill up 
with gas and then head west towards the pacific coast.  We ride a dusty, 
well used road down to the little surfer town of Carmen.  Actually, it is
two towns sort of siamesed together: Malpias and Carmen.  It's basically
about 5 kms of surf shops, bars and buff white people.  It's obviously a
party town for Americans and Europeans...not really our scene.  We beat
feet out of there and continue north along the coast.  The road is rougher
along here but there are little beach cabins and surf spots all the way
so you just sort of plod along in the dust.  While the riding isn't 
great the views are terrific.  The road runs just a few meters from the
beach so it is one continual panorama of waves, tide pools, reefs and 
beaches.  We stop just before the little town of Ario and hang out at
some tide pools for a bit.  It is cool parked up in the trees and the 
warm sea breezes are so completely different from the cold and snow I
left in Colorado just a few days ago that it feels exotic.  North of 
Ario, the road turns inland a bit.  This means less traffic, less 
development and better riding.  It also means we start the first of 
many water crossings.  There is no point trying to differentiate between
stream, creek or rivers in here because there are so many.  Some are 
narrow and deep (with perhaps 18 to 24 inches of water), some are wide
and shallow (6 to 12 inches).  Some have sandy beds, some are gravel
and others are rocky.  Over the next week, we'll probably do 20 or 30
water crossings but only one ends up being challenging.  You basically
just dip the front tire into the water, pick a rough path across and then
just stay on the gas.  Getting splashed is actually very refreshing given
the heat and the humidity.  I decide to stay in the back of our group so 
that I can stop and take photos without bothering anyone.  This also has 
two side benefits.  First, it allows me to get drop far enough behind that
I'm not always riding in a cloud of dust and second, it gives me an
opportunity to really wring the bike out catching back up after taking
a photo.  This makes for some great riding where I can just focus on road
and the bike.  I come around a corner and see Hubert riding his bike out 
of a ditch.  He says he just ran wide and didn't crash but a broken front
fender and muddy hand guard seems to indicate otherwise.  After our loop
through the inland farm land, we then head back out to the coast at Point
Coyote.  This is a big wide beach with a couple of restaurants and bars
set back among the trees.   It is almost completely empty, with only a
few people on a 2 km long beach.  We stop here for a bit to enjoy the
view, then retrace our steps back up to the main road.  (It turns out
we could have ridden up the beach to the north and then taken a different
road east but we didn't know that at the time...)  It is back inland,
but this time into a more mountainous area toward the town of San
Francisco de Coyote and then to Jabilla.  (As we soon discover, there
are multiple towns with the same name and our three different maps
often have three different names for any given place).  There is a
particularly beautiful area near Punta Islita where the road is about
200 ft above the water looking down onto a beautiful crescent of
beach.  There is a fancy resort here, in this isolated area, with its
own private air strip.  Probably an expensive and insulated way to 
experience Costa Rica but it would certainly be a pretty place to do it.
We near the beach again at Playa Camaronal, then do another loop inland
to Estrada.  When we decided to head north we knew we were on a time
table.  Many of our books had said that the crossing over the River Oro
is deep and can only be done at low tide.  Since low tide was scheduled
for 3pm, we aimed for a 2pm crossing with the idea that we could hang
out while the level dropped if it was too high.  When we get there, the
river level turns out to be no big deal.  Maybe it was because we are 
here during the dry season or maybe it's because it is close to low tide 
but we all ride across without any problem.  In fact, it is anti-climactic
given how much we'd been anticipating this as the trial of the day.
Just north of the River Oro we are back along the coast for a long ride
along the multi-kilometer long Playa Carrillo.  Like Punta Coyote, this
wide clean beach is nearly deserted.  There is a bridge at Playa
Carrillo that crosses over a crocodile invested creek but I don't catch
a glimpse of any reptiles as we ride over.  Then it is just a short hop
and we arrive in Samara.  This town is a slightly more commercialized,
and thus slightly less hippie, version of Montezuma.  There is a main
drag with lots of restaurants and hotels.  We cruise down to the beach,
then head back to a pizza place called Hotel Guido Pizza and Pasta for
lunch.  We have, naturally, pizza and pasta.  A fellow from Canada, who
apparently races as an amateur in the Canadian Superbike series, rides
up on a Honda Transalp and tells us about how he spends his winters in
Costa Rica.  He is heading for Panama the next week...  Not a bad life!
After lunch we ride a few kilometers north of Samara for gas, then
retrace our steps back to Estrada.  We veer inland to higher elevations
and to less used roads.  Our first destination is San Pedro and then we 
go even more inland to San Ramon.  Rather than taking the main road from
there to Zapotal, we instead turn onto a little used road that climbs
hundreds of feet up to Cerro Azul.  This is just a blast as the road
seems to go up forever.  At each turn, you think it has reached the
top, only to find another ascent.  The road surface is surprisingly
good.  Rain has washed ruts in places but overall it's good enough that
you can carry momentum to deal with any rough spots.  The road finally
reaches it's crest and then runs along a ridge for about 5 kms.  From
here you can see east towards one of the Nicoya Peninsula Nature
Refuges.  To the west, we can see down into the River Oro valley.  The
other notable thing is that here we are in the middle of nowhere and on 
top of this high ridge is a little farm.  All of us agree that it is 
probably the most perfect home in all of Costa Rica!  After getting 
directions in Cerro Azul we find the road to Jabillo and start back down.
Just as the road up was exciting so is the return to lower elevations.
The descent goes on for about 7 kms.  A few of the switchbacks are
particularly tricky since they are hidden by the jungle foliage and
end up being pretty exciting when you're carrying a little more speed 
than needed.  I get a lot of practice sliding the rear end of the KTM 
into corners dirt track style.  By this point, it is getting late and 
we start getting worried about being stuck riding on these lonely dirt
roads in the dark with just the weak headlight on the bikes to guide us.
We start riding faster which means that road from Zapote to Rio Frio and
then back to Cobano is lots of fun.  During this point, I start noticing 
that I've got a constant ringing sound in my ears.  Uh oh, I think this
means tinnitus.  I've been wearing ear plugs but I guess the open faced
dirt helmet is just too loud even with ear protection.  At one point 
between Rio Frio and Cobano there is a deep little g-out that is almost
completely blind because you are cresting a hill at the time.  All five 
of us are surprised by this and we all laugh about it at the next 
intersection.  We have a lot of "oh shit" moments during the trip but 
this one becomes particularly funny...fortunately the KTM has a great 
engine and a great suspension so just cranking on the throttle mid-air 
lets the bike soak up the rough landing without any drama.  We get back 
to Montezuma just at sunset, all of us dirty and happy.  We decide to 
stand around in the street after locking up the bikes just laughing 
and joking about the days riding.  While there, a bombshell blonde walks
up and starts talking to Hubert and Tony.  Her name is Desi and she is a
massage therapist who has been hanging out in Montezuma for the past year.
Needless to say, Desi becomes another running joke all during our trip.
As we start up to the cabin, the hotel manager gives us the message
that Wilhelm is having the replacement LC4 delivered at 9am the next
morning.  To give some perspective on what this means from a customer
service standpoint, Wilhelm is paying one of his employees to leave San
Jose at 4:30 am and spend 4 1/2 hours riding a bike to Montezuma.
Then he'll get on the 450 LC8 and ride the same 4 1/2 hours back to San
Jose.  Sure, it's a great day at work for the guy riding the bike and
it's probably also a relief for Wilhelm to get his expensive LC8 back
ASAP but it's also an excellent way of taking care of the customer.
Full marks to Wilhelm for this!  We all take showers, just to remove
the 1/2 inch thick layer of dust, then sit out on the patio in a giddy
state re-telling stories from the day's ride.  That's always a pretty 
good yardstick for measuring the success of a ride.  Oh, fortunately 
the ringing in my ears stopped shortly after we got off the bike so that
appears not to be an issue.  Then we walk down into town for dinner at 
Cafe Montezuma.  This is the last night they can't sell beer or liquor 
but just like last night tonight's restaurant can sell wine.  We
order pitcher after pitcher of sangria as we sit on the beach about 10
meters away from the water.  Tiki torches burn, a soft wind blows and
the stars twinkle up above.  I have an excellent eggplant parmesan then
take a short walk on the beach (since that is what my wife Jonna would
have done) and then return to the table for a Nutella and banana crepe
desert.  Then we all waddle up the hill, stuffed and content.  After a
last round of story telling and my evening journaling, I collapse into
bed at 10:30.

Total for the day: 210 km in 9 hours.

-----------

2/7/06 (Montezuma -> Montezuma)

We all roll out of bed at 8am, most of us having had a restless night's
sleep...it was hot last night and we all over ate at dinner so those
were undoubtedly contributing factors.  There was another round of 
Howler Monkey screams during the night but Todd and Hubert still aren't
fessing up.  We get ready to go but figure we'll be waiting on the 
replacement bike for awhile.  Flash and I walk into town to by 
postcards.  Flash decides to buy beer to stock up the fridge for when 
we get back this evening.  This bit of foresight earns him the El Jefe 
title for the day.  Rather than the anticipated late arrival the 
replacement bike, an '05 LC4, shows up promptly at 9am.  Wilhelm's 
assistant has to replace the tail light bulb and fuse, then pronounces 
the bike good and takes off on the LC8 for his return ride.  We quickly 
load up the bikes and are off by 9:30am.  Instead of taking the direct 
route back to Cobano, we instead ride further south along the coast to 
the end of the Cabo Blanco Nature reserve.  Bikes aren't allowed inside,
so we turn north and take a back way up to Malpais.  This road is the
roughest we've ridden yet.  This is a true 4WD drive with stream 
crossings and lots of baked hard mud with tire tracks and rain ruts
through it.  Todd tries to use the helmet cam to capture it but we 
quickly get to Malpais and there is so much dust coming off the roads 
that he isn't getting good video.  Then we turn east and retrace part
of yesterday morning's route to Cobano.  Tony's new bike is already 
without a tail light so one of us will have to ride behind him since 
he doesn't have a working brake light.  We gas up and try to get some 
money from the bank in Cobano.  Unfortunately, the ATM link isn't
working for foreign banks so we have to move on without replenishing
our money.  We head north out of Cobano on a little used one lane road
that goes to Pachanaga.  It turns out that the road is either still
being built or under major repair.  One of the bridges is out and the
stream crossing is made through a lot of very soft mud.  It is fun 
trying to keep the bike upright while the rear tire is spinning through
the soupy banks and then making the climb back up to the road.  I 
really get into a groove in this section and have great fun trying to
keep up with Todd as we zoom through this deserted area.  We end up 
just south of Rio Seco where we end up back on the same part of road
we'd taken yesterday.  We zoom south for a short ways and then find
that same G-out that surprised us all the day before.  We all hit it
wide open again and are now really laughing when we stop at the 
following intersection.  It has gotten us twice in a row.  We then 
turn north towards the little village of Piedades.  After a few 
kilometers we then turn off onto an even less used trail just north 
of Piedades.  At first I'm not even sure it is the road since it just
heads through a field but then it turns into an incredibly rough 4WD
road that climbs up a steep hill.  Like yesterday's ride near Cerro
Azul, this road just keeps going up and up and up.  However, unlike 
that climb, this one is gnarly.  There are 18" deep rain ruts 
criss-crossing the road and big rocks are everywhere.  I have the KTM
down in first gear and just pick out a line as I go, standing on the 
pegs to absorb the big hits and driving the rear wheel upward.  After
what seems like a half hour of hill climb, we finally get to the top.
The view is again spectacular looking east into another nature reserve
and then with another to the southwest.  We start back down the back 
side through a series of big switchbacks.  The road on this side isn't
as rough but is covered in a fine layer of pea gravel.  On one of the
slow, left hand turns Flash loses the front end of his KTM and goes 
down.  Naturally, today was the day he'd decided not to wear his 
motocross elbow guard and came down directly on a sharp rock with his 
left forearm.  This bashes up his left hand guard but also takes a one 
square inch chunk out of his arm.  Todd goes to work getting the bike
straightened back out while Tony gets out the med kit and takes a look
at the wound.  It is pretty nasty looking with a big blob of fat
pushing its way out of the hole.  Yuck!  Tony has a great syringe for
flushing out wounds (I gotta get me one of those) and then puts on some
antibiotic salve and a bandage.  Flash is pissed but is otherwise okay.
The bike is mostly undamaged so we continue on down to the town of San 
Ramon de Rio Blanco.  Yes, this is the third town called San Ramon that
we've been through, all within 30 kilometers of each other.  We try to
go east through the Refugio La Celba to Rio Grande but again bikes 
aren't allowed in the national park.  Flash takes a break under a very
cool gazebo like thing while Todd and Hubert sort out another route to
get Flash back to the medical center in Cobano.  We return to San Ramon
de Rio Blanco and stop at the only store in the little village to grab
a snack.  We get cookies, crackers, ice cream bars and sodas, then we 
sit in the shade of a little tree across from the town's church to eat.
Four little girls from the Catholic school attached from the church come
over to sell us 1,000 colones raffle tickets for something we don't
quite understand.  We aren't going to be around to collect the prize but
Tony gives them the 1,000 anyway.  We ask if we can get a few photos 
with them instead of getting the raffle ticket.  They get embarrassed 
when the other girls in the school start giggling but the photos turn 
out nice anyway.  All the kids seem really interested in these funny 
dressed white guys that have suddenly appeared in their secluded little
village.  As we leave at 2:30, all the girls come out of the school
to wave goodbye to us.  Cool!   We head west back to Zapote.  Somewhere
along the way, the luggage rack stabilize bracket on Todd's bike falls
off.  I see something in the road but don't register what it is the
bracket at the time.  By the time I make the connection, we are too far
away to return to look for it.  From Zapote, it is a quick 30 minutes 
back to Cobano on the same road we were on yesterday.  Todd, however, 
wants to try out a different road that goes from Fresca to Rio Seco.
Just a little ways down the road is a section where the hillsides on 
both sides of the road have been terraced in the distant past but are 
now overgrown.  I wonder if this was old agricultural work before the
surrounding towns changed over to raising cattle and growing more
traditional gardens.  This "road" turns out to be a little single track
donkey trail that climbed up over the same ridge we'd come over going 
into San Ramon de Rio Blanco but further to the west.  The hill side 
has tried to wash away in some places, meaning we are basically climbing
up ruts instead of a real trail.  This is the best riding of the trip 
but Flash is obviously not happy taking this challenging ride with his
banged up elbow.  We finally get back down the other side to Rio Seco 
and then shortly thereafter re-join our route from yesterday.  Flash
and I split off to zoom straight back to the medical clinic in Cobano.  
While flying down the road, we both recognize where we are and finally
manage to take the correct line over the hidden G-out.  We may be simple
apes but we do eventually learn.  We get to Cobano at 4:30 and I sit 
outside with the bikes while Flash goes in to see the doc.  Half an hour
later, the others catch up.  Tony and Hubert take over guard duty while
Todd and I take my and Flash's bikes back to get gas.  Not long after we 
get back, Flash emerges all patched up.  He got six stitches and a 
script for some antibiotics.  The grand total for the medical work?
$60 plus another $20 for the drugs from a pharmacia right next door...
Let's hear it for the advantages (?!?) of the US medical system.  We 
head back to Montezuma and on the big dirt switchbacks I almost rear 
end Flash because I'm not paying attention.  Opps!  I do a spectacular
broad slide all the way around the right-hand corner with a move 
straight out of a flat track race.  Uh, I meant to do that!  For the
second day in a row, we return to the hotel dirty and happy.  Happier,
in fact, than the previous day because there is cold beer in the fridge
this time.  We share stories and Imperial beers on the patio.  Atter
winding down we walk back into town and grab pizza at Pizz@net, a
pizza joint in the middle of town.  I get the yummy medium size
"Vegan Honeymoon Pizza" and a Bavarian beer...oddly enough, the "vegan"
pizza comes with cheese.   The waitress tries to stiff me on the bill
but thanks to Hubert's excellent command of the language (and my
stubbornness not to produce any more money) we get it sorted out.  On
the way back up the hill, I walk past the street vendors and find a
Tico lady selling handmade jewelry.  I bum some money off Todd and
pick up a pair of silver and garnet earrings for Jonna.  Back at the 
cabin Flash starts his antibiotics which means he won't get an 
infection but also means he can't have alcohol for the next four days.
At least he had one beer tonight between the election black out and 
starting the antibiotics.   I grab a much needed shower, wash some 
jerseys by stomping on them in the floor of the shower and then climb 
into bed at a relatively early 9:30.

Total for the day: 180 km in 7 hours.

-----------

2/8/06 (Montezuma -> Jaco)

Today is going to be our longest of the trip, since we have to get all
the way down to the Osa Peninsula in southern Costa Rica.  As a result,
we drag our tired butts out of bed at 5:45am.  For me, it was another
terrible night's sleep so I'm dragging even more than I usually would 
be at 5 freakin' o'clock in the morning.  We had packed last night, so
we are ready to go from the moment we roll out of bed.  We grab a quick
bite, pack up the bikes and are climbing up the dirt switchbacks for 
the final time by 6:30am.  We have a spirited ride through the fields
of the southern Nicoya since we have to get to the Paquera ferry in time
for an 8:30am departure.  If we miss it, we'll have to do a 2 1/2 hour 
loop around the Bay of Nicoya and we don't have enough time given
todays ride to do that.  The ride is fast, despite these paved roads
having as much surface area covered with pot holes as with asphalt.  A
few times during this week's ride, we have ridden through areas covered
in animal crap but have always been spaced out enough that it isn't a
problem for the following riders.  This time Flash almost gets me by 
hitting a cow pie during a left hand corner.  Somehow I deftly (or 
just luckily) miss the spray.  Nonetheless, I call him a monkey for 
the morning since he's out flinging poo.  We get to Paquera a half hour
early and have time to hang out at the dock.  Hubert gets our tickets 
and, unlike our trip over three days ago, this time we don't have to pay
separately for the bikes and riders.  We save about 1,000 colones, or $2,
each.  Flash, who is taking antibiotics anyway, decides to brave the 
daily taco special at the ferry terminal.  The rest of us make do with
Power bars and bottled water.  The bikes are loaded in two groups by the
load master to balance the boat.  As a result, Hubert and I are the last
two vehicles put on the ferry.  By the time we get unpacked and upstairs,
the group has already bagged benches under the boat's awning.  Good plan
but unfortunately, they got them on the wrong side of the boat so we were
in the sun anyway.  We relax for 1 1/2 hours on the ferry.  I write 
postcards and call Jonna on Hubert's cell phone.  Todd tries to record 
some more video but when it turns into us bitching about our non-direct
route back to Cobano the previous day, he decides to cut the interviews
short.  This time we have the ferry process down pat so we are ready to
unload when we arrive in Puntarenas.  We stop briefly on the street to
get organized and are immediately approached by a guy offering to protect
us from gangs while we're parked.  We decline and quickly get moving. 
In fact, we get moving so quickly that I forget to take my ear plugs off
the top of the tank bag and end up riding without them for the first 
time this trip.  We do some aggressive urban riding through traffic but
our stunts are nothing compared to both a taxi and bus which pass us 
in heavy traffic!  I immediately shift back into the style of riding 
I've done in Italy and Spain.  Looking for openings the width of a bike
and going for it.  I am riding caboose on the group, since Tony is 
still without a tail light, and a few times I run right up on the back
of him when he hesitates on a close pass where I am already wound up 
to go for it.  It's frustrating, even though Tony is doing the right 
thing by riding at his comfort level.  We turn onto CA-23 and start 
heading south.  The road runs along the coast for awhile but the beach
isn't nearly as nice as those we've been seeing on the Nicoya.  Then 
the road turns in-land where it meets up with CA-34.  We are still 
making good time and it's made easier by the fact that all the traffic
makes room for the bikes.  Like Europe, it is so nice to ride in a 
culture that lets bikes take advantage of their speed and size.  We
regularly get the thumbs up, headlight flashes and big waves from car
drivers.  This is in stark contrast to the US where bikes would get 
run off the road for this kind of riding.  We stop momentarily at the
bridge over the River Tarcoles to walk out and see the crocodiles 
sunning down below. Todd stays with the bikes and takes a look at both
Tony's tail light and Flash's mirror.  The mirror turns out to simply
be out of alignment after the crash but Tony's dead tail light is a 
bigger problem that we can't fix.  One thing I notice is that despite
riding without the ear plugs my ears aren't ringing today.  Odd...I'll
have to read up on tinnitus when I get back home.  Once finished with
the big reptiles, we continue with our fast riding down the coast.
These LC4s are just perfect for Costa Rica...able to run down main 
roads at 100 kmh but yet were able to do the single track yesterday.
We stop in the touristy town of Jaco and look for a bank.  I try to
get money from the ATM but it find the same problem of being unable 
to contact the international ATM network.  Instead, I walk into the
bank and take out a $300 advance on my credit card.  At this point,
I'm back to being financially fluid so I feel more comfortable.  Since
we are still an hour away from lunch, I grab a frozen fruit bar and 
some bottled water from a snack shack.  We mount back up and continue
south from Jaco to the town of Parrita.  We get to the first of the 
one lane bridges along this road but fortunately only have to wait 15
minutes to cross.  These big one lane bridges aren't controlled
by traffic signals or anything so traffic on one side just backs up
until there is a gap in the oncoming vehicles.  Then this side empties 
out until there is gap in this traffic for the other side to get 
started again.  Apparently these waits can sometime take an hour or 
more.  Once on the other side of the bridge, we are into an area where 
farm raised palm trees are grown make palm oil.  This agricultural area
means you have to stay alert on the bike.  At one point we are come 
around a sweeping right hand corner to find that our lane is blocked 
by a herd of goats which are lying down in the road.  We all get slowed
down in time and get around but it is just one more example of how 
riding in Costa Rica is so dramatically different from the US.  We also
ride past one of the plants used for cooking the palm down to its 
essential oil.  Black smoke belches from a big smoke stack and drifts
across the road blinding drivers.  Luckily, there are no goats hanging
out here.  We continue on south and come upon a line of traffic backed
up at the one lane bridge at Quepos.  The folks ahead say that it will
probably be over an hour before we can get across.  It's not looking 
good for us to get all the way down to Puerto Jimenez before dark.
Then, a white Toyota 4Runner in line in front of us pulls out and makes
a U-turn.  He stops next to Flash and says that he knows a back way to
Quepos that only takes 20 minutes.  He plans to drive fast but figures
that the motorcycles can keep up.    We go on Mr. Toad's Wild Ride 
following him.  We first go out through the palm groves.  During this
section I'm convinced that this guy is leading us off to some desolate
area where he'll rob us and hack us to bits with a machette or
something.  Then we turn south and start coming across the workers and 
work trucks that take care of these fields.  We are flying at this 
point.  I am reminded of the video footage I recently saw in the 
movie Dust To Glory about the Baja 1000.  We're doing about 90 kmh 
on these little one-lane work roads.  Each palm field is irrigated by 
a series of ditches which have these rickety little bridges going over
them.  We are hitting these like jumps while trying to follow the
SUV which is invisible in a cloud of dust ahead of us.  Then we start
hitting stream crossings, presumably the water that feeds the river
which resulted in the main bridge that we were avoiding with this
detour.  Finally we come across the main branch of the river itself.
It isn't very deep but it is flowing very fast and the bike is 
continually pushed downstream while fording it.  I come out about 
10 meters downstream from the road and have to ride back up the bank
to get back on the road.  All the while, the bikes are strung out over
a lengthy distance trying to follow our leader at such a challenging
pace.  We have cut inland a ways, up near the hills and come across 
a small village that is having a funeral.  We all slow down and try 
to pay some respect but it doesn't appear that the 4Runner was so
thoughtful and we're now starting to lose touch with him.  Thankfully,
he eventually stops at an intersection and explains to us where we are.
Flash mentions we are going to get some food in Quepos and they lead us
to a restaurant called El Jardin in the middle of town.  (Like the 
towns of San Ramon on the Nicoya, every third building in Costa Rica
appears to be called El Jardin).  I'm so hungry at this point that I'm
spacing out from low blood sugar and dehydration.  That ride was fun
but it chewed up the last of my concentration and I'm just operating 
on auto pilot now.  We pile all of our gear in the corner of the cafe
and settle in around a big table.  I order a cheese sandwich, some 
fries and a large bottle of water.  We are all covered in dust but 
Hubert's contact lenses are bothering him particularly bad.  He gets 
his backpack from the pile, removes his content lenses solution, leans
pack against his leg and washes his eyes out.  When he goes to put the
fluid back, his back pack is missing.  Some bastard has nabbed his pack
and disappeared out the front of the open air cafe.  Hubert goes out 
into the street but can't see anyone.  The restaurant staff mention 
someone asking about ice cream and then hurrying out so the guys in 
the 4Runner offer to drive Hubert around Quepos looking for someone 
that fits the description from the waitresses.  While they are
out, Flash flags down a local cop and tells him what is going on.  
When Hubert returns empty handed he gives a report to the police.
Meanwhile, Todd and I put together a plan.  When Hubert is done with
the cop, he calls his credit card companies to close the accounts and 
calls the US Embassy to get the info for a new passport.  Hubert heads
over to the police station to get a copy of the report while Todd 
cancels our reservation in Puerto Jimenez and makes us a new one back 
in Jaco.  We wait two hours for Hubert to get back and then immediately
get out of Quepos and head north.  In retrospect, it's not really a 
surprise that this happened in Quepos, all the signs were there.  The
banks all have armed guards, the place generally looks pretty run down
and there are a lot of rough looking people wandering around the 
streets.  Still, we have generally been pretty careful with our stuff
so far this trip and it is a bummer that we still got stun.  We make 
pretty good time heading back north, making both the Quepos and Parrita
bridges without lengthy delays.  In fact, we basically haul ass back to
Jaco and manage to get there by 4:30.  We ride through town but it's a
crazy tourist hot spot with people everywhere.  We check into the Hotel
Mar de Luz which is run by a Dutch family and turns out to be a very 
nice place, probably the nicest place of the trip.  Todd, Tony, Hubert 
and I go for a swim in the pool but Flash can't join in because of his
arm.  No beer and no swimming...the moral of this story is don't crash
on motorcycle trips.  After the refreshing dip in the pool, we walk into
town to find a place to eat.  On the way, we step into a little strip 
mall to look for some things at a pharmacia.  They don't have the contact
lenses case for Hubert but do have some bandages for Flash.  It also 
turns out that despite all the ads in the window they don't have Viagra
stocked on the shelves, though no one asks to see if it is available 
over-the-counter.  We also spot a sex shop which leads to another 
round of jokes.  A few blocks further down the main drag, we dodge out 
of the crowded sidewalk and step into the Los Amigos restaurant.  They 
have outside seating along with a big blank white wall upon which they 
are projecting surf videos.  We order margaritas (well except for Flash 
who is still out of luck with the booze) and look over the fantastic 
menu.  I order a veggie massaman curry which turns out to be incredible.
Even though I'm not a surfer I also get a kick out of watching the 
videos...or maybe that is just the margaritas kicking in.   Tony and 
Hubert regale us with stories of their dating adventures back in the
states.  After dinner, Flash and I head back to the hotel since, yet 
again, we have an early morning planned.  Todd, Hubert and Tony go out
for drinks and stagger in sometimes later.  I'm out by 9:40, but not 
before we leave Hubert and Todd some gifts.  Flash gets out some ear 
plugs for Hubert to replace the ones stolen with his backpack.  I
get out a condom and some lube, something I always carry thanks to
having a wife who does sexual health education for a living.  We leave 
the packages on their pillows like mints.  More laughing and jokes 
take place when the bar goers finally return in the night...

Total for the day: 275 km in 9 1/2 hours.

-----------

2/9/06 (Jaco -> La Fortuna de San Carlos)

As has become a trend, we are up early.  In order to get to the US
Embassy in San Jose when they open at 8am, we plan to leave Jaco at
5:30am.  This means the alarm goes off at an annoying 5am.  Honestly, I
don't know how morning people stay sane doing this day after day.  
I had already packed last night, so all I have to do is get dressed
once I pry my eye lids open.  I try to lay down on the bed and get a
little nap in while the other guys pack but end up being the butt 
(no pun intended) of a joke as Todd sticks a candle holder up to my 
butt while Hubert snaps a photo.  No doubt revenge for the sex shop
and condom jokes the night before.  I stagger out to the bikes and get
everything situated pretty quickly.  I can't be too sleepy because I 
also remember to get out my spare ear plugs to replace the ones I lost
in Puntarenas yesterday.  The sun is just barely above the horizon and
for the first time on this trip I'm actually chilly.  The First Gear 
Kilimanjaro Air Mesh jacket has been the cat's meow for the hot weather
but once we're moving in the cool morning air it's not doing anything 
to keep me warm.  I have the liner but don't have time to stop and 
put it on.  Fortunately, this is Costa Rica so I don't expect this to be a
problem for long.  I'm riding on autopilot this morning because I'm
tired and we've been this way before.  We think we are making pretty 
good time on CA-34 but then a Suzuki Hayabusa rolls past and, with a 
wave from the rider, disappears into the horizon.  At Coyolar, diverging
from what we did yesterday and turn east on CA-3 toward San Jose.  The
first bit of this road is another straight highway but then at Orotina
it starts to climb up into the mountain.  This is a fantastic road!  
Freshly paved, very curvy and the slow moving traffic is easy to pass 
on the inclines.  Once at the top things change because we are now 
heading east into the rising sun.  It is blinding at times and, even
though the road is still great, we end up spending a lot of time in
long lines of traffic because it is too difficult to see to make safe
passes.  We drop down near the town of Atenas and then go into town 
to get gas.  The central gas station is closed but a local points us to
another gas station that is open.  Want an example of why riding in Costa
Rica is different from the US:  I am riding down the main street where 
there are two buses parked on the curb.   As I am going past, they both
start to pull out.  This forces me onto the center line.  Oncoming 
traffic don't even flinch and a big delivery truck actually moves over 
a bit to make room.  I end up shooting down the middle and even get a 
wave from the truck driver has he goes by.  In the US, I'd probably have
been squashed flat or had folks giving me the finger.  Now that we are
fueled up, we head on up to the Pan American Highway, which we used to
exit San Jose four days ago, and head for downtown.  Rush hour traffic
in San Jose is a lot like any other big city but even more chaotic
since the road signs and lane markes don't mean anything.  The speeds 
vary from an overloaded, four decade old pickup to a fancy new sports 
car that is cutting through traffic like the proverbial hot knife
through butter.  Passing happens wherever there is an opening and lane
discipline is non-existent.  Fortunately, bikes are small, fast and 
allowed to do whatever they want in this country.  We weave through 
traffic and make really good time all the way to the airport.  At this 
point, we exit and start heading south on regular city streets because
we have to get to the Pavas suburb where the Embassy is located.  The 
side streets are almost parking lots.  Buses, cars, trucks, motorcycles,
scooters, bicycles and people are all crammed into jam packed lanes.  
We work out way through the Benel area, then wind south through an 
industrial area.  Most of the time we ride on the shoulder of the 
road following motorcycle riding locals who know the area.  After an 
hour of working our way towards Pavas following the directions of 
kind car drivers, Todd decides to invoke the Malcolm Forbes technique.
He pulls up to a taxi and asks the driver to lead us to the embassy. 
If the 4Runner escapade in Quepos was Mr. Toads Wild Ride, then this 
was another Disney-esque E-ticket adventure.  The cabbie starts slicing
his taxi through traffic and eventually gets to CA-27, a divided four
lane going east into downtown.  He then takes off like a bat out of 
hell, with us all strung out behind him trying not to get cut off by 
traffic.  Cabbies worldwide know the best way to get from point A to 
point B, and this guy was no exception.  In 15 minutes, he has us at 
the front gate of the Embassy.  The clock shows 8:30am.  Todd pays the
fee and gave him a hefty tip as well.  The guy is thrilled and gives 
us his card in case we need anything else while we are in San Jose.
We park at a photography store so that Hubert can get his 2x2" passport
photos.  While waiting, we realize there is a little coffee shop right
next door which is directly across from the Embassy.  Even better, it 
has a parking lot security guard.  We send Hubert on his way equiped 
with a walkie-talkie  for communication and then move the bikes over to 
the Spoon coffee shop.  We set up camp at a window table and order 
breakfast.  We figure it will take Hubert around two hours to get the
replacement passport.  After eating, Tony decides to go walk around 
the neighborhood.  First he gets to play frogger getting across the
main road.  I provide a little video game noise but fortunately he
makes it safely across without me having to add the "Bwaaa whaaa 
whaaaaaaa" failure noise.  Having successfully gained the far side
he disappears into a mini-mall.  For those of us at Spoon our server 
is a guy William.  He turns out to be awesome.  He is friendly,
helpful, loaded with personality and quick with the coffee.  In fact,
we get pretty tanked up on the coffee...I rarely drink the stuff and
pounding down four cups is enough to have my eye lids fluttering.  
To our surprise, Hubert comes walking out of the Embassy after only 
45 minutes carrying a temporary passport in his hand.  Flash goes
off in search of Tony and returns with the news that Tony has taken off
on a long walk to the nearest post office.  Hubert orders breakfast and
we come up with a plan for the day to ride north to the Arenal Volcano
area.  We had originally intended to ride through this area on our
first day but the bike problems and the need to catch the ferry to
Paquera meant we had to abandon that portion of the ride.  Todd had 
spent time in that area last summer so he calls the hotel he'd stayed 
at in La Fortuna de San Carlos.  They have rooms available, so we make
a reservation and now have a plan for the remainder of the trip.  Tony
returns just has Hubert finishes eatting so we load up to head north.
William spends some time giving us road suggestions.  He is great with
descriptions but like so many other locals we meet, he can't relate this
knowledge to a map.   Just getting back out of San Jose turns out to
be a trial.  We make a couple of wrong turns, including doing the entire
cloverleaf of an exit, before we are finally back on the PanAmerican 
highway.  Traffic is still heavy but we can again filter through pretty
quickly.  We ride past Naranjo, where Tony's clutch crapped out on day
one, and take the next exit for San Ramon.  Gee, that name sounds
familiar.  We take a quick break at the MegaSuper grocery store then go 
into the town of San Ramon itself to get gas.  Now we can start north for
La Fortuna.  Almost immediately, this road is incredible.  It climbs up
into the mountains called the Cordillera de Tilaran and it seems to
have been specifically made for motorcycles.  The road is super twisty 
but all the curves are very predictable.  Flash isn't in the groove but
the rest of us are rocking on this section of pavement.  Again, the KTMs
are great bikes in this environment...we just ride them like large super
motard bikes.  The wide handlebars, torquey motor and good suspension let
us flow through the curves.  I again take up the back of the group so 
that I can stop periodically for photos.  This again gives me a chance to
play "catch up" which is more fun that anyone should be allowed to have.
It is during his stretch that I find that the front brake on the KTM LC4
is not meant to be used to repeated haul the bike down from high speed
when entering corners.  I end up overheating the front brake and have an
exciting corner entry when the brake lever comes all the way back to the
bar.  Fortunately, we get into some traffic which gives me a chance to
let the front brake cool back down.  The weather is perfectly clear and
we can see north all the way to the Arenal volcano, as well as east to 
the volcanoes of Platanar, Porvenir and Poas.  The three to the east 
all have well defined craters at the top but Arenal looks like a perfect
cone.  As we ride north near San Isidro we come across a bridge that is
another example of why riding in Costa Rica is so entertaining.  There 
has been a rock slide on one side of the bridge that has nearly blocked
the entrance.  Cars have driven over it, making a little path to get 
onto the bridge.  This bridge is one of the largest we have seen but 
the driving surface is in pretty rough shape and has been patched 
numerous times with big steel plates.  In the US, this bridge would 
probably have been condemned years ago but here it is the main way
north.  We are getting closer and closer to Arenal and it looks more 
and more impressive the further north we go.  Finally, we get to the 
town of La Fortuna de San Carlos and check into the Hotel San Bosco
at 2:30pm.  We unpack the bikes and set about catching up on some
chores.  Most of us hit the hot tub for a little relaxation.  Flash 
borrows a BFH from the hotel staff and beats his hand guard back into
shape so that it no longer fouls the compression release lever.  I 
take some time to wash my clothes in the sink.  Todd helps Tony 
disassemble his replacement bike to see what is leaking oil down the 
right side of the motor.  I also have a chance to buy some more post 
cards at a gift shop across the street.  With our chores complete, we 
walk two blocks to the main square and start looking for a place to 
have dinner.  We pick one place but the obnoxious host drives us away.
Then we walk down a dark alley and find a place called Nenes.  They 
have smoked pork ribs hanging in an open air wood-fueled stove and 
that is all it takes for the beast eaters to decide.  I order some 
penne noodles with pesto and a beer.  It turns out the ribs aren't 
ready yet so Todd, Hubert and Flash reluctantly order steaks instead.
Hubert orders a Brazilian drink called a caipirinha which turns out
to be so good enough we all order a round.  At this point, we've had
different drinks with each dinner so why not continue the trend?   
I try to top off the mediocre pasta with a desert but the strawberry 
cheese cake isn't very good either.  At least I enjoyed the caipirinha.
We slowly walk back to the hotel enjoying the warm night air.  Flash and
I retire to one room with two double beds.  Its nice not having to share
a bed with anyone for the first time this trip.  We watch some American 
TV, then I grab a shower and sit up for awhile writing postcards. 
Just as I'm falling asleep around 10:30pm, I hear some loud noises from
next door but then drift off to deep sleep.

Total for the day: 275 km in 9 hours.

-----------

2/10/06 (La Fortuna de San Carlos -> La Fortuna de San Carlos)

Up at 8am and find that last night Todd had some kind of asthma attack
or an allergic reaction at 10:30pm and then another just after
midnight.  He seems fine when we wake up in the morning but it is
certainly something we are all concerned about.  I'm doubly concerned
because when we were in Jaco I mentioned that there were five things
that could really complicate our trip: Mechanical problems, crashes,
being robbed, becoming sick and getting arrested.  Tony covered the
first, Flash the second and Hubert the third.  I was willing to take
one for the team and get sick but Todd seemed reluctant to get arrested.
With Todd suddenly getting sick, that put the onus of getting arrested 
on me!  Flash and I walk a couple of blocks to the post office and 
buy some stamps.  I also pick up a few more postcards.  When we get 
back, the whole group walks over to Mus-Anni, a nearby bakery, for 
breakfast.  Todd also goes to a pharmacia next door and buys some cough
syrup and an asthma puffer.  They may not have Viagra handy but you 
can get asthma medicine over the counter that is prescription only in 
the US...  I also hit the bank and finally successfully withdraw some 
money from an ATM, proving that the international bank connections do 
in fact work sometimes.  We get back and suit up for the day's ride.
My socks are still a little wet after yesterday's laundry but everything
else has dried out nicely despite the humidity.  Out of the parking lot 
at 10am with a quick stop for gas.  Then we go west out of La Fortuna 
to the Arenal National Park boundary.  Just before we get to the Park,
we round a corner and find traffic stopped.  There is a herd of about 
20 white nosed coatis running around and a similar herd of about 20 
tourists following them around taking pictures.  Naturally, we join in 
and also take photos of the cute, furry little critters.  Just a few 
kilometers short of Lake Arenal we turn off onto a small dirt road 
that runs around the southern edge of Lake Arenal.  After a brief stop 
to ask an enthusiastic local for directions, we are off onto a rarely 
used 4WD road.  This road runs between the volcano and the lake, 
probably just 5 km from the northern edge of the volcano.  The road is
incredible!  Lots of rough surface with rocks, ruts, stream crossings 
and double track trail.  The highlight is a big river crossing over the
River Cano Negro about 10km down the road.  When we get there, Todd 
charges in and makes it about halfway before coming to a stop.  

Then Flash goes in and gets about 10 ft away from Todd before slowing 
and then digging a hole with his rear tire.  Tony and I wade out into 
the thigh deep water to help out and find that Todd's chain has popped
off.  Tony, Flash and I lift the back of Todd's bike up while he puts 
the chain back on the rear sprocket.  Todd then carefully rides the rest 
of the way across.  We then get Flash moving again and he also makes
it across.  Todd comes back and takes Tony's bike across since Tony is
still new to dirt bikes and we don't want to risk him drowning the bike.
Todd gets almost all the way over, then fells over and dunks the bike.
Doh!  Fortunately, it doesn't suck water into the motor but does fill 
the airbox.  Then Hubert gets across with some spotting from both Todd
and Flash.  I was last and make it about half of the way across before
hitting the tough section.  There are some bowling ball sized, 
moss-covered rocks in about two foot of fast moving water.  As if the 
rough river bottom wasn't tough enough, after the halfway point the 
water changes direction so that I am riding "downstream" for the last 
half which makes it nearly impossible to see what is under the water's
surface.  Todd and Tony help spot me and I am able to get the rest of 
the way across.  It is a testament to the KTM that the clutch doesn't
get burned out because I was working it pretty hard hopping the bike 
over those big ass rocks.  We are all soaked to the bone from the waist
down after this...so much for my clean, dry laundry.  Still, it is 
exhilarating and a great example of what we were looking for when we 
decided to come riding in Costa Rica.  After dumping out our boots it
is back on the trail.  Another 10km later we cross some horse riders 
and stop to talk with them.  We then get the idea of doing a group 
photo, so we retrace our steps to a beautiful overlook just a couple
of clicks back.  After a few false starts I figure out my new camera 
and get a great photo.  Flash gets the GPS coordinates, N 10' 26.478"
W 85' 47.347" and an impromptu plan comes up of having T-shirts made
with both on them.  From there, the trail stays challenging for about
half the trip around the southern dirt portion of the lake then 
gradually improved as we get closer to the town of Tronadora.  Just 
before we get to the town, we stop because we hear some howler monkeys 
up in the trees arching over the road.  I turn around to point them out
and slowly the bike tips over to the right side.  Graceful!
Fortunately, both me and the bike go into some soft bushes with no
damage to either one of us.  We are back on the pavement after Tronadora,
though at times it is rougher than the dirt!  We race around the
northern most point of the lake and then start back south along the
east side.  We stop at La Rana near the town of Arenal for lunch. 
More pasta for me, but some German food that had Hubert sitting back 
in culinary ecstasy.  While having lunch, we get to watch wild Tuccans
and other tropical birds who are hanging out in the trees outside
the restuarant.  Back on the bikes, the road is rough for about half 
the distance back to La Fortuna but then becomes newly paved once we 
pass Mata de Cana, about 10 kms before the man made dam that created
the lake.  I stop for some photos and then do the major super moto blitz
to catch back up to the group.  This time I don't cook the front
brakes but do have a blast riding this twisty, new pavement.  Wow, what
an amazing section of road!  Once over the dam, a big SUV tries to take 
out Hubert by suddenly turning across the road in front of us...probably
a damned tourist since it is turning onto a side road that goes to a 
bunch of ritzy resorts.  We get back to La Fortuna at 5pm, once again
returning before sunset.  After a bit of clean-up, note taking and bike
checks it is time to walk around town.  Todd and Tony hit the Internet 
cafe while I try, unsuccessfully, to find a better pen for writing my 
post cards.  We then head to La Brasita, a mexican place on the edge
of town, for dinner.  I have some good veggie fajitas, a strange 
cheese filled bell pepper and a couple of weak pina coladas.  Our 
conversation is also drown out by a talented but *loud* pair of Mexican
folk singers.  Back to Hotel Bosco and asleep by 11:00pm.

Total for the day: 146 km in 7 hours.

-----------

2/11/06 (La Fortuna de San Carlos -> San Jose)

We are awake at 7am since we, once again, need to get an early start.
We grab a great breakfast at Mi Casa cafe.  I get the desayuna typical
with eggs, beans, rice, toast, OJ and coffee).  We walk back, pack the 
bikes and hit the road at 9am just a little later than forecast.  From
La Fortuna we head due east.  I start out in the back since Tony's tail
light is still not working but within 20kms I almost rear-end him three
times because I mis-predict his passing (once passing a group of
bicyclists, once when a dump truck yielded us the right-of-way at
a one lane bridge and once when he stops for a red light...silly 
rabbit!)  The road is mainly through agricultural areas until we
reach Aguas Zarcas.  Just fields and small towns, so we make good time 
and get caught back up to our original schedule.  At Aguas Zarcas things
get real fun, real fast.  The road turns south and starts climbing up 
into the mountains.  This road is a blast all the way to San Jose, 
meaning we are in for a great afternoon of riding.  The road climbs 
really steeply from San Miguel to Isla Bonita.  Then goes right by a
spectacular water fall...probably dropping 150 ft through a
natural crevice.  We then continue to climb, until turning west to go
up to Volcan Poas National Park  Somehow the road gets even better
here: Freshly paved and super twisty...1st and 2nd gear on the KTM.
We pay $7 to get into the park, go to the motorcycle parking right by
the visitor center and then split into two groups to walk the 600m to
the rim.  Flash, Hubert and myself go first, the clouds blow across the
top mostly obscuring the crater but periodically they clear enough to
see the lake and smoke vents down in the caldera.  We walk back to the
bikes, checking out the giant plants along the path, then feed Todd and
Tony a line about it being perfectly clear but that clouds are closing
in.  They hussle off down the path trying to beat the clouds.  Our plan
backfires though since they stay gone for nearly an hour waiting for
the clouds to clear.  In fact, they get a better view that we's seen.
Meanwhile we sit around chatting out our favorite vacations, including 
Hubert describing his trip to Tortuguero on the caribbean coast of
Costa Rica a few years back.  This sounds like an awesome vacation spot
to bring Jonna if I ever get back to Costa Rica.  When Todd and Tony 
finally return, we head back down off Poas which is another great ride.
While passing some cars just north of Cinco Esquinas, Hubert kicks up 
some cow dung off the road and pelts me in the helmet and jacket.  A 
direct hit!  Another damn monkey flinging poo!  The road is still great
with tight curve after tight curve, though the road surface is back to 
being highly variable.  We work our way east and south, hopping from 
town to town.  We eventually reach Heredia, where we stop for lunch at 
Fresas.  Heredia feels a bit like Quepos and is crazy busy.  We are all
pretty paranoid and spent a lot of time at lunch looking over at the 
bikes.  Still, the restaurant served a great cheese sandwich with salty 
white farmer's cheese and fresh juicy tomatoes...reminds me of the 
bocadillos I had in Spain last year.  Over lunch, Flash agrees to act 
as judge in the "Todd is trying to kill me" case.  Because of my superior
logic, plus my sharing my french fries with him, he rules in my favor.  
Hah!  Naturally, Todd is a sore loser.  We need gas but after nearly 
losing Hubert in the heavy traffic we give up and get the hell out of 
Heredia.  We end up going too far east, so we hit highway 32 at San 
Isidro rather that at San Juan.  Fortunately, there is a gas station at 
the junction, so we are able to fulfill our duty of filling the bikes 
up with gas before returning them.  From here it is a straight shot 
down 32 to San Jose.   It isn't totally safe though, I almost get run off
the road while leap frogging through traffic when Tony zigs just as I 
zag. Todd does an excellent job of getting us to within a few blocks of
Wilhelm's, then Flash's GPS leads us the rest of the way in.  Wilhelm 
and his crew are waiting for us and are very efficient in taking over 
the bikes when we arrive exactly on schedule at 4pm.  We are finished
returning the bikes by 4:30.  Hubert has to pay $25 for the broken
front fender he's had flapping all the way across Costa Rica for the 
past week.  Flash pays $60 for half a pair of hand guards and for a 
replacement disk lock (which had bounced out of his tank bag somewhere
on the Nicoya).  Todd is let off the hook for the broken saddle back 
mounts and likewise Tony isn't penalized for the oil leaks or the 
non-functioning tail light on his replacement bike.  Oh, and my bike? 
Perfect, not a scratch on it.  We hire a van back from Wilhelm's other
company Costa Rican Trails and take it back to the Bougainvillea 
hotel.  After checking in, I take a *long* shower and it feels awesome to
finally get a week's worth of dirt out of my hair and beard.  I send 
my "flying clothes" off to be laundered since they have become pretty
smelly after being packed away at Wilhelm's for a week inside my gear
duffle.  This means I have to wear my motocross pants and a used jersey
to dinner.  We meet at 6am in the bar for drinks (pina coladas and
caipirinhas) which I buy for the group as a "thank you" for being such
a fun gang to ride with.  Then we take the hotel van to La Puebla, a
food, shopping and disco area near downtown.  We have dinner at Papa
Pez.  Probably the best meal of the trip for the meat eaters but the
worst meal of the trip for me...bland spaghetti noodles with canned,
steamed vegetables and no sauce.  Blech.  I also didn't need the two
beers that I orderd with it...  We walkl around the mall afterwards.  
I think I look like a rock star in my moto-cross pants and tiva
sandles but the gang seem to think I just look like a grimy dirt biker.
Shows how much fashion sense they have!  We decide not to hit the
discos, nor hit any of the strip joints that Hubert has been asking
around about...after all, as is our tradition we have yet another early
morning tomorrow.  We catch the 9:30pm shuttle bus back to the hotel 
and I'm fast asleep by 10:30am despite Flash snoring away in the other
bed.  If you ever travel with Flash and he feeds you some line about how
he "only snores lightly", remember this trip report as evidence to the
contrary!  On the plus side, my clothes come back from the laundry all 
fresh and clean so I'll actually smell acceptable on the plane flight 
back to the US tomorrow.

Total for the day: 197 km in 7 hours.

-----------

2/12/06 (San Jose -> Denver)

We have a 5am wake up call so that Todd, Hubert and I can make our
8:30am flight.  Flash's flight is an hour later but he decides to come
on to the airport with us so we can all split the cab fare.  I again
sleep horribly, something that has been hit or miss on this trip.  In
this case, I was worried I'd fall into a deep sleep and miss the wake
up call so instead I tossed and turned for most of the morning.  We
check out at 5:30 and catch the van to the airport.   As a final joke,
Hubert sets up a series of wake up calls for Tony (whose flight isn't
until noon) with the front desk.  In fact, he requests one per hour.
That should guarantee Tony doesn't over sleep.  At the airport, we pay 
our exit tax and then wait for the America West desk to open so we
can check in.  We all get picked to have our bags searched by security 
but the awful stench emanating from our riding gear keeps the inspection 
to a minimum.  As a bonus, the security people then have to schlep our 
heavy gear duffels the rest of the way to the desk.  As if this wasn't
enough, Todd then gets picked at the security screening gate for a 
carry-on bag inspection.  Even security knows the guy is dangerous.
Once inside the concourse, we meet back up with Flash and grab breakfast
at a Burger King.  Todd and Hubert spend the last of Todd's money on
greasy sausage biscuits while I get bland cheesey dough thing.  Our 
flight boards at 8:23 and is a smooth, uneventful flight to Phoenix.  
We all have exit row seats so it was actually comfortable too.  After
a quick layover, we catch the final flight home.  The plane touches 
down in Denver at 4pm and by 6pm I'm having dinner in Boulder with 
Jonna, my Aunt Gail and my Uncle Bob.  Just like that, the trip is over.

Total distance on bike:  1470km
Total riding time: 55 1/2 hours.
Total time in Costa Rica: 8 days

-----------

Prologue:

We each stocked up on travel books, maps and various other bits of
information for the trip.  Here is my breakdown of what worked and
what didn't:

1) Books:  I bought the Fodor's Costa Rica (2005) book.  Plain and simple,
this book sucked for what we were doing.  It gives a brief discription of
most of the major towns but nothing useful about the things we cared about
like the roads, banks, ferry times, etc.  Todd had the Lonely Planet
Costa Rica (2005) book and it was much more useful.  We booked all our
hotels after the Quepos fiasco using the Lonely Planet book and I
generally thought it was better for a traveller.  Hubert had an
older edition of the Lonely Planet but we mainly just used Todd's 
newer version.  Flash brought the Rough Guide Costa Rica (third edition),
and seemed to like it but I never found the time to look through it myself.  

2) Maps:  I bought a National Geographic Adventure map of Costa Rica
and had mixed feelings.  When we were on the Nicoya Peninsula, I thought
it was horrible because so few of the town name matched what was listed
on the signs.  However, on the mainland it was very accurate.
Additionally, I liked the fact that it even had the little 4WD roads
listed and marked as minor roads.  I always like maps that use colors 
to show topographical changes and this map was great for that.
Finally, it was tear and water resistant.  Great for durability but
sucked when I was trying to mark our path with a highlighter.  Todd 
used the International Travel Map of Costa Rica (1:330,000 scale) which 
was by far the most accurate when it cames to roads and city names.  
However, it didn't show landscape variations as clearly as my map
and the plain paper tore really easily.  Hubert had the Berndtson
Costa Rica map which split the differences between the two.  Town names
were fairly accurate but the topo markers were non-existent.  However, 
it was a laminated map which meant it very pretty durable.

3) GPS data:  Both Flash and I downloaded the free GPS maps for Central
America from Richard Smith at http://rwsmaps.griffel.se/.  Garmin
doesn't offer any official map packages for central america, so this
was the best we could do.  That said, the data isn't all that usable
for Costa Rica.  Most of the towns and villages don't show up at all
and those that do are usually mis-named.  The coast line data for the
Gulf of Nicoya is all screwed up and extends inland about 15km further
than the actual coast.  Don't rely on this data if you're planning a
trip to Costa Rica.

4) Bike rental:  There are a lot of companies renting bikes in Costa
Rica.  We chose to rent the bikes from Wilhelm von Breymann's company
the Costa Rica Motorcycle Rental Company 
(http://www.costaricamotorcycletours.com/).  We had a great experience 
with Wilhelm and I heartily recommend him to anyone interested in riding
in Costa Rica.  The KTMs were the perfect bike and Wilhelm did a great 
job of taking care of us. 

Well, that's it.  I hope you enjoyed the write-up.