Doin' the Jungle Boogie...the Costa Rica '06 Ride...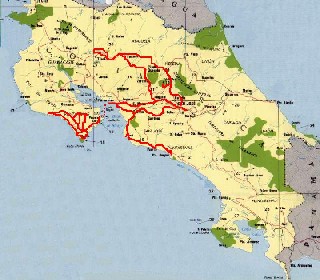 Start Time:
Start Odometer:
End Time:
End Odometer:
Total Riding Time:
Total Mileage:
2/5/06 10:00 CDT
1,303 km
2/11/06 16:00 CDT
2,773 kms
55 hrs, 30 min
1470 kms (914 miles)
Who:

Alan Fleming
'06 KTM 640 LC4
Todd Blachowiak
'06 KTM 950 Adventure/'06 KTM 640 LC4
Tony Jones
'06 KTM 640 LC4/'05 KTM 650 LC4
David "Flash" Braun
'06 KTM 640 LC4
Hubert Belser
'06 KTM 640 LC4
---
My buddies Todd Unpronounceable, Hubert, Tony and Flash all decided we should travel down to Costa Rica together to do some dual sport riding. We decided to schedule this trip in the middle of winter so that we could get in some warm weather riding. We rented KTM 640 LC4s from Costa Rica Motorcycle Tours and Rentals. We then spent a week exploring the Nicoya Peninsula and Arenal Volcano areas.
I will eventually write up a trip report and link it into this web page. I the meantime, here are some photos.
Thanks to the whole gang for making this an incredible vacation!
1) When we picked up the bikes in San Jose, it looked overcast but the weather cleared up during the day. You can see just how mountainous Costa Rica is as these hills are just a few kilometers from downtown San Jose: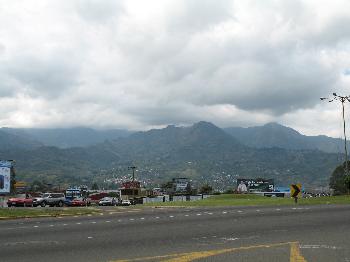 2) We took a one and a half hour long ferry ride from Puntarenas to Paquera. It gave us a chance to cool off on the deck since the temperatures on land were in the 80s with high humidity. We also got to enjoy views like this: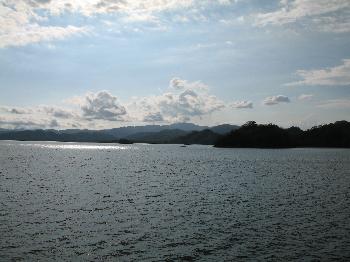 3) We spent three nights at the beautiful El Jardin cabins in the little surfer hippie town of Montezuma. This was the view from our place looking down onto main street and the coast: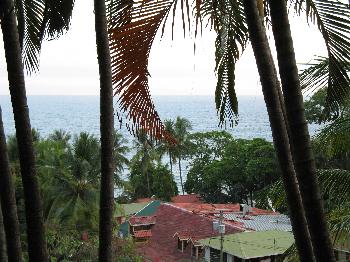 4) We spent a couple of days exploring the southern tip of the Nicoya Peninsula. Most of the roads were single lane dirt trails that were in moderate condition. In fact, given the condition of the paved roads, the dirt ones were sometimes a better choice. The only problem, as you can see in this shot, was the dust: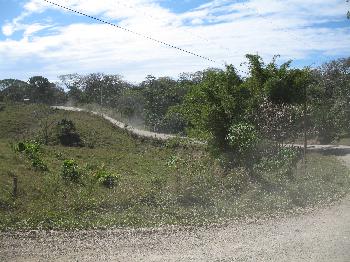 5) On our second day of riding we went up the coast. This was a great ride because you could stop under some shady trees whenever you wanted a break and just enjoy the view. It was also cool to walk out among these tidal pools and look for little sea critters: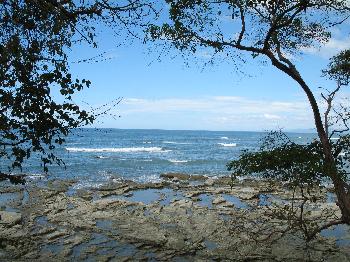 6) During our week of riding, we probably did 20 creek or river crossings. This was one of the first and it was pretty easy. They were usually a nice surprise because getting splashed with cool water was a good way to cool down: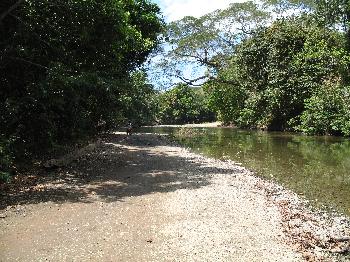 7) The landscape in Costa Rica varies widely, from virgin jungle to rain forest to wide open agricultural areas. This was taken as we neared San Francisco Coyote and shows a cool mixture of jungle, forest and fields: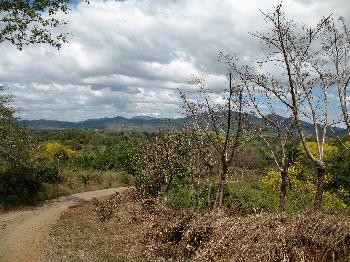 8) Driving in Costa Rica has many challenges. The river crossings, gnarly roads and poor signage are constant. So are the multitude of domesticated animals. In our week of riding we had to deal with dogs, cows, horses, sheep and goats (the goats were blocking one lane of a major two lane paved road...very exciting when encountered at 100 kmh):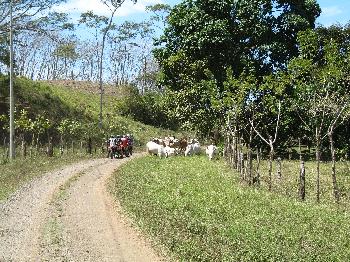 9) We road out to Point Coyote to enjoy the view. We did a quick loop out on the beach but it turns out we could have ridden it a few kilometers north, had we only known, since it is used as road for a short stretch: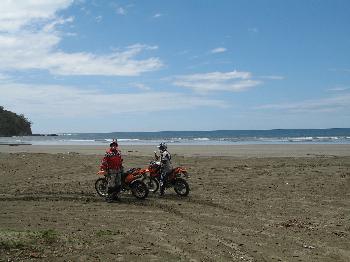 10) Looking down onto the beaches at Point Islita, its easy to see why I loved riding in Costa Rica. This is an area of Costa Rica that fits the description of tropical paradise: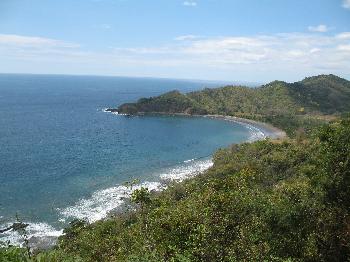 11) We spent a good bit while on the Nicoya riding alongside rivers. This was the view down onto the River Oro valley: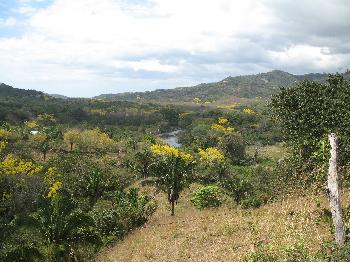 12) We had been pretty concerned about the ford through the River Oro since everything we'd seen written said it could only be done at low tide. Fortunately, we got there at low tide and found it pretty easy: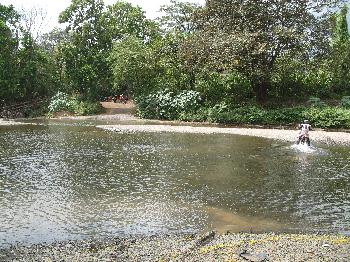 13) After riding up the coast, we headed back south through the center of the peninsula which was quite mountainous. This was just one of the many beautiful vistas we got to see and it was on the road between San Ramon and Cerro Azul: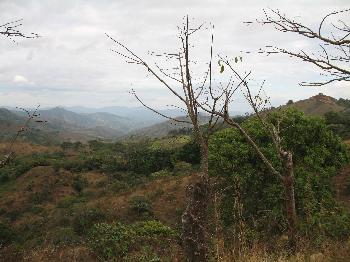 14) Ah, the dirty pleasures of life. A day of riding on dusty roads and trails makes for a dirty face. We were all pretty grimy when we got back to Montezuma: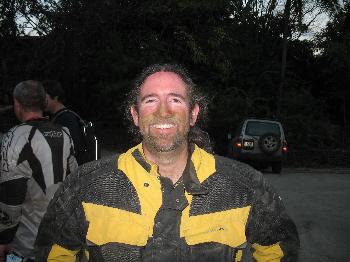 15) Day three of riding and we were back into the mountainous mid-lands of the Nicoya peninsula. Did another great series of hill climbs to reach this point north of Pachanaga. On the way back down, Flash lost the front end and bashed up his elbow: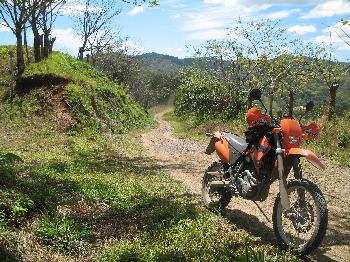 16) We stopped at the entrance to the La Celba Nature Reserve while trying to get to Paquera. Here Flash takes on the El Jefe pose cooling off post-crash in a open air gazebo: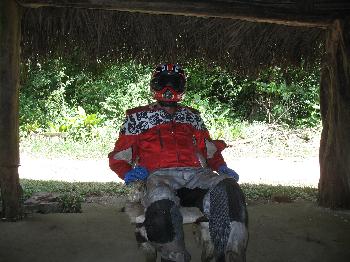 17) After being thwarted in our effort to go east, we headed west. We stopped in the little down of San Ramon de Rio Blanco for a quick lunch of crackers, ice cream and soda from a little general store. The girls at the nearby Catholic school wanted us to by some raffle tickets. Tony paid for one but asked for some photos instead of the raffle ticket. The girls at the school all lined up outside and waved to us as we left their little village: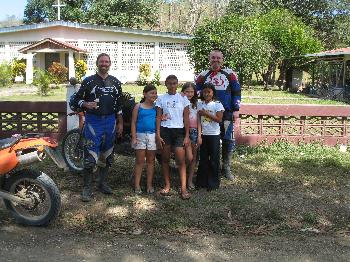 18) This turned out not to be the fast way back to the medical center in Cobano (so Flash should have his elbow checked out). It was, however, a very rough bit of single track and probably some of the best riding of the entire trip: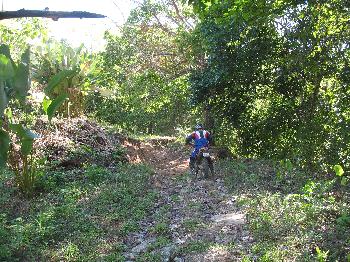 19) The fourth day was supposed to be our long ride down to the Osa Peninsula. Along the way we stopped at the popular Tarcoles bridge to check out the monster crocodiles in the river below. Crocodiles see the world as two things. Things they can eat and things they can't. These bad boys are big enough to eat a KTM LC4: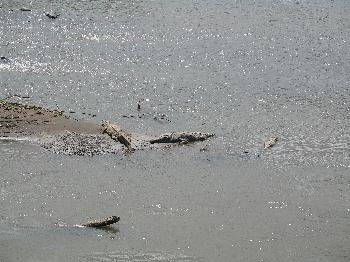 20) Our trip south got stalled out in Quepos where Hubert's backpack got stolen. We headed back north so Hubert could get a new passport in San Jose. This was one of the many one lane bridges that can clog up traffic for hours. Fortunately, bikes can filter up to the front: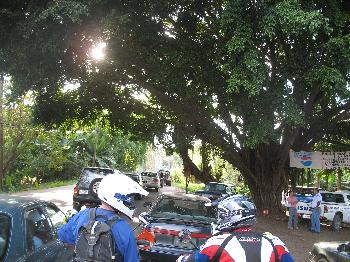 21) The fifth day of riding saw us back in San Jose during morning rush hour trying to get to the US Embassy. Traffic is at a stand still for fifteen or twenty minutes at a time. Again, fortunately bikes can filter through it: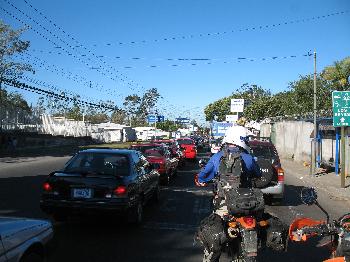 22) The San Jose police are basically powerless to help the traffic snarls. Still, the traffic cops get to ride these cool little Suzuki bikes: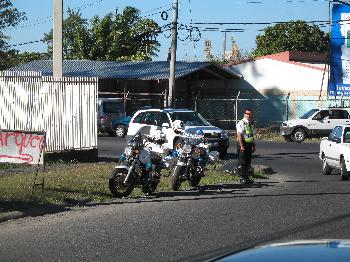 23) Once Hubert got his new passport, we headed north towards the Arenal Volcano. While stopped, I shot this photo of the KTM seat. If you look closely, you may be able to stop the wood grain cause I'm convinced it was really made from a 2x4: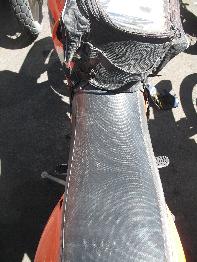 24) One of tour books I read said that Costa Rica has cleared over 50% of its jungle. This photo would certainly back up that assertion. This is a shot looking over the valleys to the west of the Platanar and Porvenir volcanos: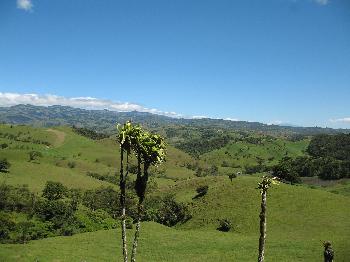 25) Many people visit Costa Rica and never get to see the Arenal Volcano because it is often shrouded by clouds. It was perfectly clear both days we were in the area. This shot is particularly important because it shows Turn Signal Tony's right turn signal still blinking on his bike. A common site during this trip: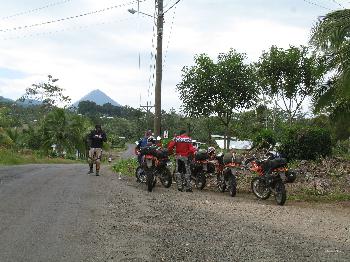 26) Two forces of nature: Hubert and the Arenal Volcano: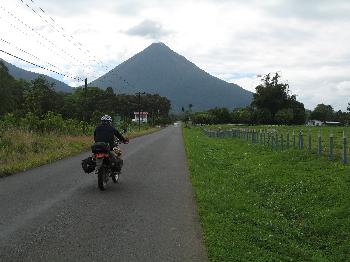 27) Laundry day. Washing the dirt bike gear with a bar of soap in the bathroom sink seems to remove most of the dirt but doesn't seem to have much affect on the stench. By the end of the trip, all the dirt bike jerseys had a particularly strong sweaty smell: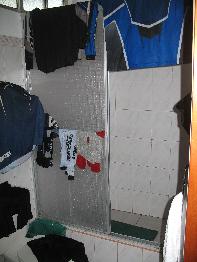 28) Ooh! Aah! The sun going down behind the Arenal Volcano made for spectacular sunsets: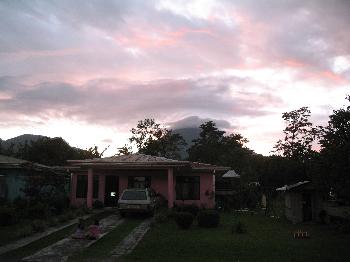 29) No scaring small children. No killing endangered animals. Just a group of sensative dirt bikers enjoying a peaceful evening on the patio: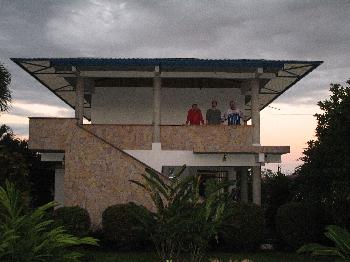 30) Our sixth day of riding started by encountering a group of White nosed Coati hanging out along side the road. These guys were very curious and, sadly, were probably looking for food handouts from us humans: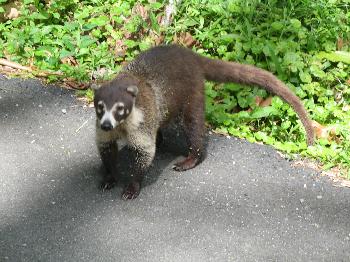 31) When in a touristy place, do as tourists do. Take lots of pictures of the Volcano. I've seen volcanos in movies and always thought they looked fake...like a bad middle school science project. Then I saw Arenal and realized they sometimes look that way in real life too: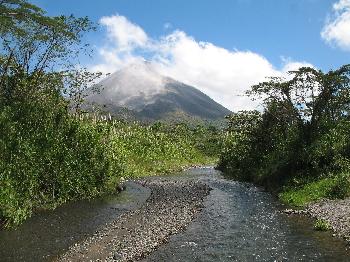 32) The biggest challenge of the trip was fording the River Cano Negro. It was a couple of feet deep, flowing pretty quickly and the bottom was covered in slimy bowling ball sized rocks. Here Todd checks for crocodiles before the rest of us attempt it: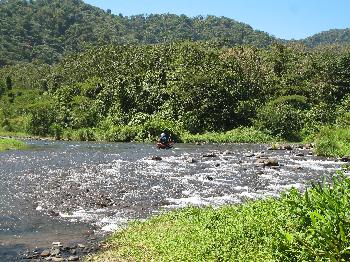 33) The dirt road on the south side of Lake Arenal was fantastic. Because of the big river crossing, most folks never get over to this side of the lake. Lots of pure jungle and awesome views of the volcano from across the lake: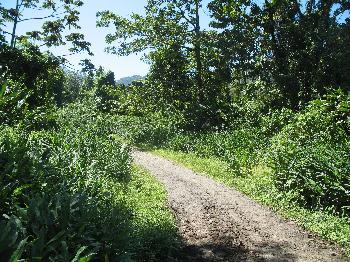 34) We found this great spot for a group shot. You would be hard pressed to find a happier group of guys: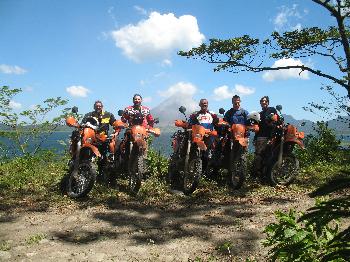 35) Looking onto the area were were riding in the moring from the north side of the lake. This is showing the southwestern portion which is actually somewhat populated compared to the southern most section: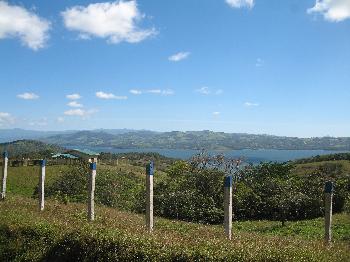 36) The restaurant where we had lunch was frequented by a flock of Toucans and a few showed up while we were eating. Surprisingly, I didn't see any Fruit Loops in the area: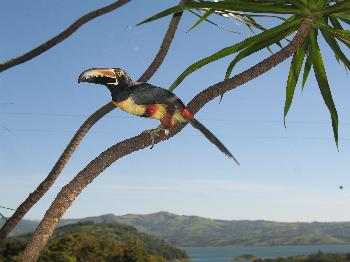 37) I mentioned earlier that the paved roads in Costa Rica are in pretty bad shape. This is just a random sample. Some of the roads we were on were freshly paved but even apparently recently resurfaced roads end up with these big pot holes after a rainy season or two: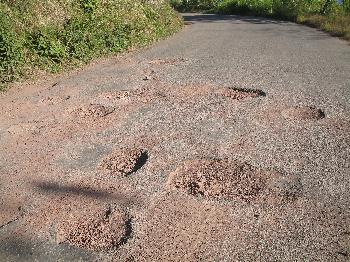 38) During our final day of riding, we came across this huge waterfall near San Miguel, just north of the Poas Volcano. This entire area had some phenomenal riding and most of the roads had recently been paved: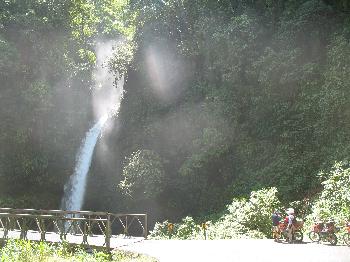 39) The top of 7,000 ft high Volcano Poas is often covered in clouds. Periodically, the mists would part and reveal amazing views down into the bubbling and smoking crater: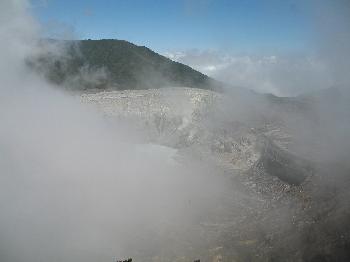 40) Would you rent a bike from this man? Well, if you go to Costa Rica, you should. Wilhelm provided us with nearly new bikes, lots of great information and then promptly took care of any problems. This included him loaning us his personal KTM 950 Adventure for a couple of days. Top notch service and a nice guy to boot: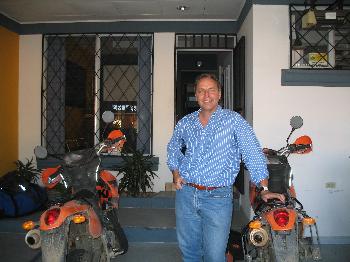 If you have enjoyed this photo essay then you may also enjoy the much more detailed trip report of the Costa Rica 2006 ride.

Return to Alan's Trip Reports


Return to Alan's Home Page

---
Alan Fleming alanf@dorje.com